Overall, while Android users nowadays have access to many means of communication, most nonetheless use text messages to stay in touch with their contacts. Via text messages, people could transmit all sorts of information as they see fit which is advantageous in various situations. Interestingly, on modern Android devices, it's even possible to "react" to text messages as if they are on social media. That being said, the question of how to like a text message on Android still troubles various Android users.
Instructions On Reacting to Text Messages For Android Users 
You want to "like" text messages on your Android phone but don't know how? In that case, this article is going to be of use to you. By reading the guide down below, you would be able to react to text messages in whatever way you like.
Prerequisite
Generally speaking, to react to text messages/receive reactions, you have to enable RCS (Rich Communication Services) on your phone. To do so, launch the message application, tap the three-dot icon on the top right and choose Settings. Next, select Chat features then toggle the switch next to "Enable chat features" to the "on" position. That should enable RCS on the device which is essential to message reaction.
Note: You have the option of reacting to text messages even if you use the browser version of your message app. Still, there is a catch: you must connect your message account to an Android device with RCS enabled.
Message Reaction: A Summary 
React to text messages: Tap and hold the messages that you wish to add reactions to. Next, choose the reaction you want from the list that appears.
Change message reactions: Tap and hold the messages that you reacted to. Next, choose the new reaction from the list that appears.
Remove message reactions: Tap and hold the messages that you reacted to. Next, choose the highlighted reaction from the list that appears. It's noteworthy that you could only remove your reactions.
Determine owners of reactions: On text messages, tap the reactions to see the identity of people that add them.
Best Message Applications For Android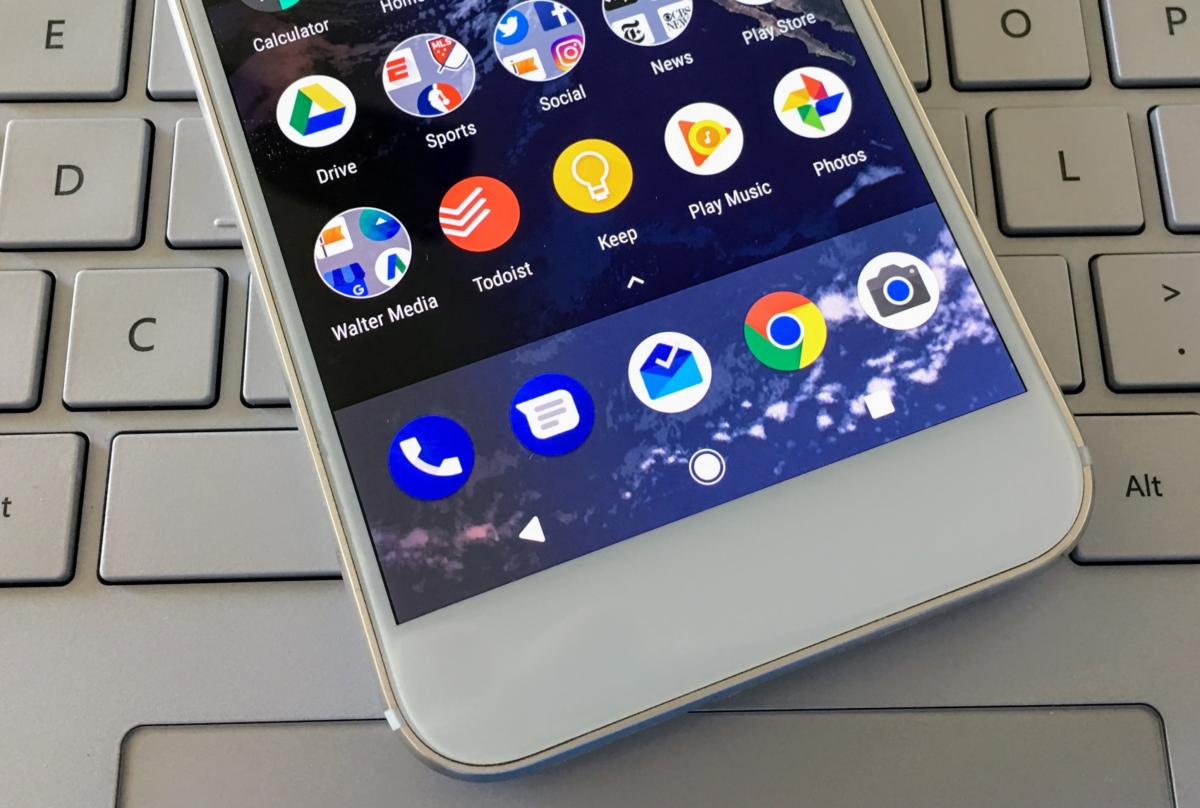 With the stock message app, learning how to like a text message on Android is a walk in the park. However, in the case that you find the reactions of the stock message app to be insufficient, you should switch to one of these applications.
Google Messages
Dependable and reliable, Google Messages is by all accounts one of the leading message apps for devices that run on Android. Featuring a user-friendly interface, the message application of Google earned a shower of praise for its convenience. In addition to that, designed with Google's RCS, Google Messages could support features like those on iMessage, WhatsApp and so on. Hence, if you desire an optimal texting experience, you have to consider installing  Google Messages.
YAATA
Thanks to the excellent customization, YAATA allows Android users to micromanage every aspect of their message. Needless to say, YAATA is popular among those who like to tailor text messages to their liking but cannot go for paid applications. One interesting thing about YAATA is that compared to its contemporary on the app store, it's light. That means you don't have to worry about running out of storage space if you install YAATA.
Pulse SMS
Filled with features, Pulse SMS is capable of satisfying a wide range of demands from Android users. By taking advantage of Pulse SMS, people would have an easy time handling the messages on other Android devices. Also, since Pulse SMS is a free application, there is no need to bother with subscription fees while using it. Nonetheless, it's important to point out that Pulse SMS incorporates in-app purchases for a few features.
Signal Private Messenger
As the name suggests, Signal Private Messenger places an emphasis on privacy which is why its level of security is outstanding. Using Signal Private Messenger, Android could communicate with each other via encrypted text messages at any time. Noteworthily, Signal Private Messenger is able to deliver text messages regardless of the strength of surrounding networks. Thus, people that have to deal with poor receptions from time to time hold Signal Private Messenger in high esteem.
SMS Organizer
From composing messages before sending to storing received messages, SMS Organizer proves handy in various tasks. Moreover, SMS Organizer automatically backup messages to Drive that guarantee peace of mind. If you lose your phone, it's possible to retrieve messages by installing SMS Organizer on the new phone. Last but not least, SMS Organizer stay up no matter what happens to the Internet connection of your device.
FAQs
What is the character limit for text messages?
The character limit for SMS text messages is 160. If the number of characters in your message exceeds 160, it may be split into smaller messages. Certain message applications convert SMS messages to MMS if they contain more than 160 characters. Unlike SMS, MMS lacks a character limit so by sending big messages as MMS, they would arrive intact.
How many text messages could Android devices hold?
Different models often have different specifications but standard Android phones should be able to hold around 1,000 text messages with relative ease. A number of devices delete old text messages as time passes by though so it's a good idea to save those that you deem important. When a need arises, you may want to move text messages on your phone to Drive to simultaneously keep them safe and save storage space.
Is it possible to send text messages from Android to iPhone?
iMessage, the predominant message app for iPhone, won't work on Android devices. Still, in the case that the sender and the receiver use the same message, there is no need to be concerned with the Android/iPhone divide.
Experienced Mobile Developer with a demonstrated history of working in the computer software industry. Skilled in Android/Kotlin, iOS/Swift, Node.js/TypeScript. Strong engineering professional strengthening my foundations at Oklahoma State University. My Linkedin: Profile